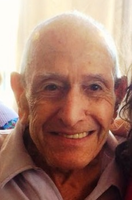 John J. Abraham
John J. Abraham
GENEVA- John J. Abraham, 91, passed away peacefully on Tues. (Sept. 19, 2017), at Huntington Living Center. Family and friends may attend a funeral service at 11 a.m. Sat. (Sept. 23), at St. Michael's Antiochian Orthodox Christian Church in Geneva, with the V. Rev. Fr. Gregory Murphy officiating. Burial will follow in Glenwood Cemetery.
Contribution may be directed to St. Michael's Antiochian Orthodox Church, 98 Genesee St. Geneva, NY 14456, or the Huntington Living Center, 369 E. Main St. Waterloo, NY 13165.
John was born on Dec. 24, 1925 in Geneva and was a son of the late Joseph and Helen (Brown) Abraham. He was a graduate of Geneva High School. John served his country in the Navy and was a veteran of WWII and the Korean War. He worked as a bartender for over 50 years at the Dresden and then at the Geneva Country Club. John was a member of the Seneca Lake Masons Lodge in Dresden and was a 70 year member of the American Legion and V.F.W. He was a devoted member of St. Michael's Antiochian Orthodox Christian Church in Geneva. John enjoyed attending horse races, playing cards and watching sports.
He is survived by his sons, John J. (Leisa) Abraham of Seneca Falls; Richard (Kathleen) Abraham of Chardon, OH and Joseph (Karen) Abraham of Stillwater, MN; brother, Paul Abraham of Fort Meyers Beach, Fla.; sisters, Ethel Corcoran of Charleston, SC, Doris (Ken) Harris of Stewart, Fla. and Patricia Abraham of Charleston, SC; 5 grandchildren; 5 great-grandchildren and several nieces and nephews.
John was predeceased by his beloved wife, Lena (Vardabash) Abraham in May 2008; sister, Emmaline Abraham.