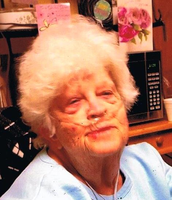 Barbara E. Kunes
Barbara E. Kunes
GENEVA- Barbara E. Kunes, 81, passed away peacefully on Wed. (Oct. 25, 2017), at Geneva General Hospital. Family and friends may call from 2 to 4 p.m. Sat. (Oct. 28), at the Palmisano-Mull Funeral Home LLC, 28 Genesee St. A funeral service will follow at 4 p.m. in the funeral home. Burial will be at the convenience of the family.
Barbara was born on March 12, 1936 in Seneca Falls and was a daughter of the late Elmer and Melissa Smith. She worked at Magnetic Components for 10 years and retired from G.W. Lisk. Barbara loved cooking, baking and traveling to Casinos, especially Las Vegas. Her family was very dear to her heart.
She is survived by her daughters, Brenda (Edward) Jansen of Geneva and Laurie (Michael) Darling of Waterloo; brother, Bobby (Evelyn) Smith of Seneca Falls; grandchildren, Jason (Cassandra) Jansen, Jennifer Jansen, Michael Darling, Jr., Tyler Darling and Ashley Darling; great-grandchildren, Casey, Jamie and Claire Jansen and Matthew Darling.
Barbara was predeceased by her husband, Robert Kunes; son, Rory Edmund Smith; 12 brothers and sisters.