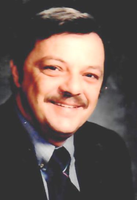 Roger William Wheeler
Roger William Wheeler
WATERLOO- Roger William Wheeler, 79, passed away peacefully at home on Tues. (April 10, 2018). Family and friends may call from 9:30 to 11 a.m. Tues. (April 17), at the Palmisano-Mull Funeral Home LLC, 28 Genesee St. Geneva. A funeral service will be held immediately following calling hours at 11 a.m. in the funeral home. Burial will follow in Oaklawn Cemetery, with full military honors.
Roger was born on Jan. 12, 1939, in Junius and was a son of the late Dewey and Carrie (Goodman) Wheeler. He proudly served his country in the United States Marine Corps from 1957 to 1960 he was stationed on an aircraft carrier, the USS Ranger. From 1965 to 1968, he completed three tours in Vietnam. While in Vietnam, Roger was wounded three times and was awarded with three Purple Heart Medals. Upon honorary discharge from the Marine Corps in 1969, he joined the Baltimore City Police for a year. Roger worked in corporate security for Kodak for 27 years, retiring in 1995. He was a hard worker and a loving husband, father, grandfather and great-grandfather. Family was everything to him.
He is survived by his wife, Joyce R. (Spina) Wheeler of Waterloo; son, Todd W. (Elif Etiz) Wheeler of Farmington; grandchildren, Ashlee V. (Calvin) Wheeler-Blank of Geneva and Andrew W. Wheeler of Seneca Falls; great-grandchildren, Julianna L. Wheeler, Caleb W. Blank, Vincent T. Blank, Bentley W. Wheeler, Brycen L. Blank, Ezra R. Wheeler and Ameilia Blank; brothers, Donald (Carol) Wheeler of Cazenovia and Gary (Virginia) Wheeler of Cape Coral, Fla.; sister, Freda (Dave) Mumford of Geneva; brother-in-law, John White of Chesapeake, VA; sisters-in-law, Carol A. (James) Rinaldo of Waterloo and Sandra P. Wheeler of Geneva; many nieces and nephews.
In addition to his parents, Roger was predeceased by his in-laws, Carl A. and Florence R. Spina; brothers, Francis (Patricia) Wheeler, Frederick (Eleanor) Wheeler and Leo D. Wheeler; sisters, Elizabeth (John) Drooby, Marjorie (Jerry) Haines, Janet (Jerry) Simmons, Dorothy White and Diane (John) Acresti.