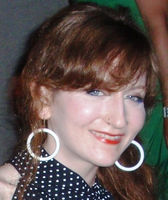 Rebecca C. Annoni
Rebecca C. Annoni
Rebecca C. Annoni, 27 of Tonawanda, NY formerly of Maplewood, NJ died suddenly in Norfolk, VA on May 20, 2018. Calling hours were held from 4 to 8 p.m. Tues. (May 29), at the Jacob E. Holle Funeral Home, Maplewood, NJ. A Mass of Christian Burial was celebrated at 10 a.m. Wed. (May 30), in St. Joseph's Church, Maplewood, NJ. The interment will be held at 11 a.m. Fri. (June 1), in St. Mary's Cemetery, Geneva, NY.
Born in Livingston, NJ, Rebecca lived in Maplewood for 26 years before moving to Tonawanda, NY. She was a graduate of Columbia High School in 2008. At Columbia High School Rebecca excelled at creative writing and she received an award for her French Poetry. She loved horseback riding and baking, she was an avid walker and loved anything and everything about the outdoors.
She is survived by her mother Martha Callahan, her father John Annoni, siblings Ariana and Samuel Annoni, her grandmother Isabelle Callahan, nephew RJ and niece Alivia and many loving Aunts, Uncles, cousins and friends.
Rebecca was predeceased by her grandparents Anthony and Mary Annony and Robert Callahan.
In lieu of flowers, contributions may be directed to: Save the Michaels of the World, Inc., PO Box 55, Buffalo, NY 14207, or call 716-984-8375.