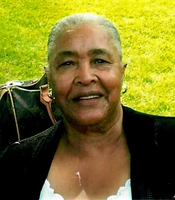 Ruth Ann Ford
Ruth Ann Puckett-Ford
GENEVA- Ruth Ann Puckett-Ford, 87, passed into the Arms of her Lord and Savior on Sun. (July 8, 2018), at Highland Hospital. Family and friends may call from 10 to 11 a.m. Sat. (July 14), at Mt. Calvary Church of God in Christ, 21 Milton St. Geneva. The funeral service will be at 11 a.m. in the Church. Burial will follow in Glenwood Cemetery.
Mrs. Ruth Ann Ford was born on Feb. 25, 1931 in Savage, MS. She was the first of eleven children born to the late Horace and Maggie Puckett. Ruth was a member of the Mt. Calvary COGIC for over 40 years.
She will be greatly missed by her 7 children; Vernell Daniels, Sr. of Asbury Park, NJ, Linda Kay Ship of Geneva, Larry Ford of Asbury Park, NJ, Terry Ford of Auburn, Bonita Wright of Geneva, Curtis Ford of New Orleans, LA and Tincie Chapman of Rochester; daughters-in-law, Mae Daniels, Felicia Ford of Asbury Park, NJ and Diane Ford of Auburn; 3 brothers, 5 sisters, 23 grandchildren, 51 great-grandchildren, 11 great, great-grandchildren and many aunts, uncles, nieces, nephews, cousins and friends.