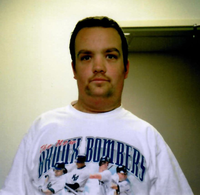 Matthew Lyn Palmer
Matthew Lyn Palmer
GENEVA- Matthew Lyn Palmer, age 44, passed away unexpectedly after heart bypass surgery at Rochester General Hospital on Fri. (July 13, 2018). Family and friends may call from 4 to 7 p.m. Wed. (July 18), at the Palmisano-Mull Funeral Home LLC, 28 Genesee St. Geneva. A funeral service will be at 10 a.m. Thurs. (July 19), at the Clifton Springs United Methodist Church, 1 E. Main St. Clifton Springs. Burial will follow in Oaklawn Cemetery.
Memorial contributions may be directed to the Matthew Palmer Campership Fund, c/o the Clifton Springs United Methodist Church, 1 E. Main St. 14432.
Matt was born on Feb. 19, 1974, in Geneva and was the 3rd of 4 children to Bernie and Julie Palmer. He attended Geneva Schools and later worked at Abbey Industries and with his dad, Bernie, at Palmer Trash Removal, where he followed the family motto, "no work, no pay." Matt lived at the group home on Highland Ave. in Geneva, where he worked hard, but always found time to spend with his family. He loved to talk to people and tell stories, always remembering a face if not the name. Matt was known as a hard worker and would help anyone. He loved racing, especially watching his brother and niece race go-karts, volunteering for the fire company in Clifton Springs, camping, fishing and traveling with his family. His favorite teams were, the New York Yankees and New York Giants. Matt was well loved by everyone that knew him. He will be missed.
He is survived by his parents, Bernie and Julie Palmer; sister, Linda Palmer; brother, Vance (Tammy) Palmer; favorite nephew, Dakota (Brandi Mosher) Cox; favorite niece, Sabrina Palmer; many aunts, uncles, cousins and friends.
Matt was predeceased by his older brother, Shane Palmer, who passed away on May 1, 2004.