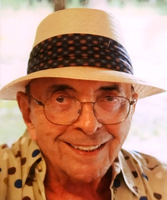 Donald F. DeJohn
Donald F. DeJohn
CLERMONT, FL/GENEVA, NY – Donald F. De John, 91, passed away peacefully on Monday (July 9, 2018) at South Lake Hospital in Clermont, FL. A traditional Mass of Christian Burial will be celebrated at 10:00 a.m. Fri. Aug. 17, 2018 at St. Francis De Sales Catholic Church in Geneva. Burial will follow at St. Mary's Cemetery.
In Lieu of flowers, contributions may be made to St Francis De Sales Church for masses to be said on Donald's behalf or used to secure perpetual Masses from various Catholic organizations.
He attended St. Francis parochial school and graduated from DeSales High School in 1945. Following High School, he enlisted In the United States Army during WWII from 1945 to 1946 and served in Germany at the end of the war. He earned an honorable discharge as a Corporal and returned to Geneva. In 1946, Donald enrolled in The Traphagen school of Fashion in New York City. He graduated from Traphagen in November 1948 and with encouragement from his teachers he travelled to Paris France to enroll at the Chambre Syndicale de la Couture. He also enrolled in classes for designing and making hats and Millinery. It was in Paris he obtained a position with the leading French designer Jean Desses. Also he travelled extensively in Europe and spent some time in England. Donald spent three years designing all types of clothing under Jean Desses. They designed clothes for such notables as Princess Margaret, the Duchess of Kent, Elsa Maxwell and others. Donald returned to New York and then headed for Los Angeles, California where he worked for several fashion houses. Over the years his clothes were worn by Mitzi Gaynor, several night club singers of the time and Pat Nixon, wife of Richard Nixon to just name a few of the celebrities that he clothed. In his spare time in California he became an Arthur Murray Instructor. He not only taught dancing but designed dresses for several dance competitions. He also was a Judge for many Beauty Contests in the California area. He retired to Merritt Island, Florida when he attended painting classes and created several oil paintings. He also worked at the Space Center for USBI. After several years on Merritt Island he moved to Pompano Beach, FL and resumed his career of dance instructor. His final move was to Clermont, FL to be closer to family. Donald was born on March 3, 1927 in Geneva, NY and was the son of the late Floyd and Elizabeth (Spinnett) DeJohn. He was a member of Blessed Sacrament Catholic Church in Clermont and St. Francis De Sales Catholic Church in Geneva.
He is survived by his sisters, Ann Marie Borsa of Stanley and Bernardine Crawford of Groveland, FL.; many loving nieces and nephews.