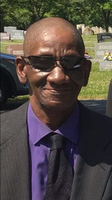 Kenneth Leroy Grady
GENEVA- Kenneth "Kenny G" Leroy Grady, 59, passed away peacefully on Mon. (Feb. 11, 2019), at home. Family and friends may call from 5 to 7 p.m. Mon. (Feb. 18), at the Palmisano-Mull Funeral Home LLC, 28 Genesee St. Geneva. A funeral service will be at 10 a.m. Tues. (Feb. 19), at Mt. Olive Missionary Baptist Church in Geneva. Burial will follow in Glenwood Cemetery.
Kenneth was born on March 3, 1959, in Geneva and was a son of the late Artis Lee and Fannie Mae (Carter) Grady. He worked as a chef for over 25 years at Abigail's and most recently at Hobart and William Smith Colleges. Kenneth had a passion for cooking and loved spending time with his family. He was an avid San Francisco 49ers fan and enjoyed wrestling. Kenneth was notorious for his jokes, smile and his quotes. "Doe I may be gone, I will always be with you! I love you like a fat kid loves cake!"
He is survived by his children, Aaron "Dominick" Grady Barber of Auburn, Brittany (Ashley) Grady of Port Byron and Trent Kenneth Grady of Seneca Falls; brothers, Artis Lee Grady, Jr. of Geneva, Marshall Grady of Seneca Falls, twin brother Keith Grady of Geneva and James (Diane) Grady of Geneva; sisters, Maryann (Charles) Mills of Geneva, Cleo Grady of Auburn, Lynn VanHouter of Canandaigua, Versa Rizzo of Geneva and Lily (Paul) Moore of Seneca Falls; grandchildren, Bryce Grady, Hailey Elizabeth Barber and Hayden Chandler James Barber; a host of nieces and nephews.
In addition to his parents, Kenneth was predeceased by his sister, Vera Rowe; sister-in-law, Linda Grady.